Student Support
There are available scholarships supported by various local and international donors. Students are advised to communicate directly the above mentioned organizations for more information. However, below are suggested online links:
Student loan is also available from Canadia Bank. Please contact as follows
Mobile: 071 333 4957 or 071 333 0009
Email: kemleang.sao@canadiabank.com.kh
Contact Info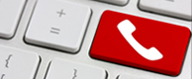 Program Committee:
Tel: (855) 16-506-888
(855) 11-956-973

Email: mcc@rupp.edu.kh

Office: Room 317A, Building A
Student Life

Foreign students who are interested in studying in Cambodia should first approach their national government. read more...