IOB Scholarship Home
Posted: 2008-12-25 09:05:37
By: Information Technology Center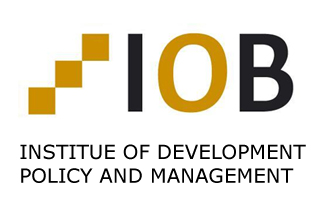 The Institute of Development Policy and Management (IOB) of the University of Antwerp offers 10 fulltime one-year Master's programmes for each Master's programme for students originating from a developing Country with a high degree of specialization and distinct focus. The scholarship are offered by the Belgian Ministry for Development Coooperation and administered by the Fiemish Interuniversity Council VLIR.
Development Evaluation and Management
Governance and Development and
Globalization and Development
This scholarship covers all costs related to the programme, namely:
a monthly allowance of 938 covering board and lodging, individual transport and personal expenses of the scholar

a monthly allowance of 59 for his/her spouse and per child, whether they remain in their home country or join the scholar to Belgium

a onetime fee for didactic material (e.g. books, syllabus, printing of dissertation) of 275

a onetime fee for mailing expenses of didactic material to the scholar's home country of 275

an installation fee of 500 (lump sum) upon arrival of the scholar in Belgium
Eligible for the Scholarships:
Appropriateness of the applicant's field of study;

Quality of the education and results/grades obtained;

Relevance of the applicant's professional experience;

Field of Study and study results: Applicants must hold a university degree of at least 4 years of study in social sciences (Economics, Political Science, sociology, international relations, or related disciplines). Applicants who hold a Bachelor's degree of only 3 years of study must demonstrate very strong and relevant professional experience and/or have successfully completed additional training. Only applicants with excellent academic records will be accepted;

Applicants must be proficient in English; those who received a university education in English must provide an official certificate confirming this. Other applicants must submit one of the following test results: TOEFL (Test of English as a Foreign Language): minimum score of 550 for paper-based test, or 213 for computer-based test, or 79 for Internet-based test.
How to apply:
The application form and more detailed information are available on:
http://www.scholarships.vliruos.be